Entering a new era of refraction:
Offering your patients the best of their vision
For many years, subjective refraction techniques have hardly changed. Today, Vision-R 800 phoropter offers continuous power changes and makes refraction more precise, easier to perform for the practitioner and more comfortable for the patient!
The patented-optical module allows for instant focus and exact refraction.
Performing refraction with "Smart Tests" is very easy, quick, and accurate.
Evaluating refraction in simulated real-life conditions makes patients more confident.
A MORE ACCURATE PHOROPTER…
Vision-R 800's exclusive optical module controls powers at 0.01 D and delivers continuous and instantaneous changes of sphere, cylinder, and axis, at the same time. Refraction is made more accurate and prescriptions can be made in 0.05 D steps. Patients can now get the full potential of their vision!
…FOR A MORE PRECISE REFRACTION
AN EASIER PROCEDURE FOR THE PRACTITIONER…
Thanks to its continuous and simultaneous changes of the sphere power, cylinder axis, and cylinder power, Vision-R 800 phoropter enables reaching the final refraction more quickly than the traditional refraction methods. In addition, "Smart Tests" and their unique algorithms assist the practitioner in conducting the whole refraction procedure. Refraction is made both very easy and very accurate!
…FOR A FULLY-RELIABLE PRESCRIPTION
A MORE COMFORTABLE EXPERIENCE FOR THE PATIENT…
Smooth power changes and a wider field of vision make refraction very comfortable for the patients. The procedure is shorter and no fatigue is experienced. Answers are made easier to give all along the refraction procedure. At the end, Vision-R 800 phoropter offers the opportunity to compare refractions in a customized immersive real-life scenario. A fascinating experience for the patients!
…FOR COMPLETE CONFIDENCE
ZOOM ON THE SMART PROGRAMS
Special algorithms have been developed
to help practitioners seek for sphere, cylinder and axis components, as well as binocular balance in both accurate and easy way. As such, "Smart Programs" assist the practitioner during the exam allowing to better focus on the patient.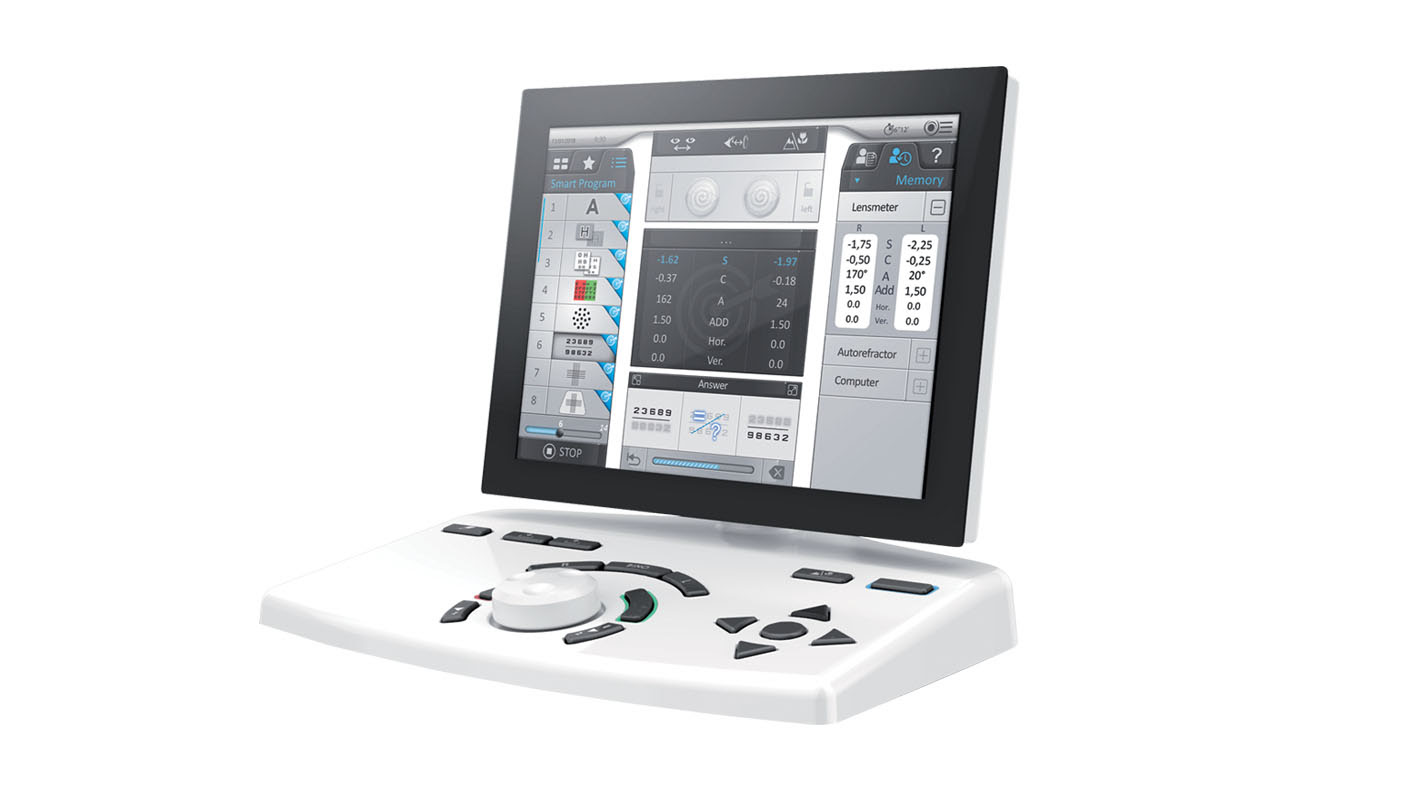 All patient's answers are taken into account.
The final refraction value is no longer based on the patient's last answers. A statistical calculation is rather made based on all the patient's answers during each test. A sensitivity range is determined for each refraction component and the best value is then selected.